Don't you just love technology and the way your cell phone has the ability to text someone anytime from anywhere?  Making plans is so easy via text or email. You can do it quickly and efficiently without spending hours on the phone gabbing about the same things you'd talk about anyway when you got together.

Online Dating for Women Over 50 is a FREE collection of the advice you need to create a successful online dating profile -- and choose a great date.

Where should we email your FREE report and handy tips?
Rest assured, we don't send spam and your info is never shared with 3rd parties.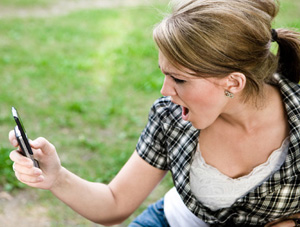 It seems as though texting has also become the modern way of ending relationships in the 21st century.  It's the new Dear John/ Dear Jane way of ending the connection.  But instead of a letter, it's done with a text.  I know cause it happened to me.  I met a man named Matt on Plenty of Fish.  He and I really hit it off and he was great to look at being some serious eye candy!
He was the first guy I ever dated where my knees nearly buckled when I saw him. Our relationship was easy and fun.  We could talk for hours and somehow he was one of those guys that knew when something was wrong just from hearing my voice.  A rarity!
Our problem was I travelled a lot during our short time together.  We kept in touch over the phone and in our last conversation, he told me how much he missed me and how he couldn't wait until the next time we'd be together. So imagine my surprise when I arrived home and received this text:
"Hi Lisa- I've enjoyed our time together but I feel we got too close too fast.  I really like you but I need some space.  I'll call you in a few weeks.  Matt"
I was stunned and I was pissed.  I had no clue why he was blowing me off when only days earlier, he had professed such care and concern for my well being.  But blow me off he did and in the most impersonal way possible.  I texted him back hoping he would tell me why he was ending our relationship.
"Matt- I wish we could have spoken before you made this decision for us.  It makes me feel so sad.  Lisa"
Of course, he didn't answer and that is why texting has become the new vehicle for relationship breakups. It's easy.  There's no drama for the person creating the split.  No having to answer the question, why? No seeing or hearing how the breakup may have hurt someone's feelings. Just a quick good bye and the relationship is done.
What do you think about Dear Jane texts?  Has a man done this to you in the past?   I hope you can share below what it felt like to have someone break up with you in such an impersonal way and how you were able to handle it.
Until next time-
Permalink: http://www.vibrantnation.com/love-sex/the-new-type-of-%e2%80%98dear-jane%e2%80%99-letter/